Berglund Body Works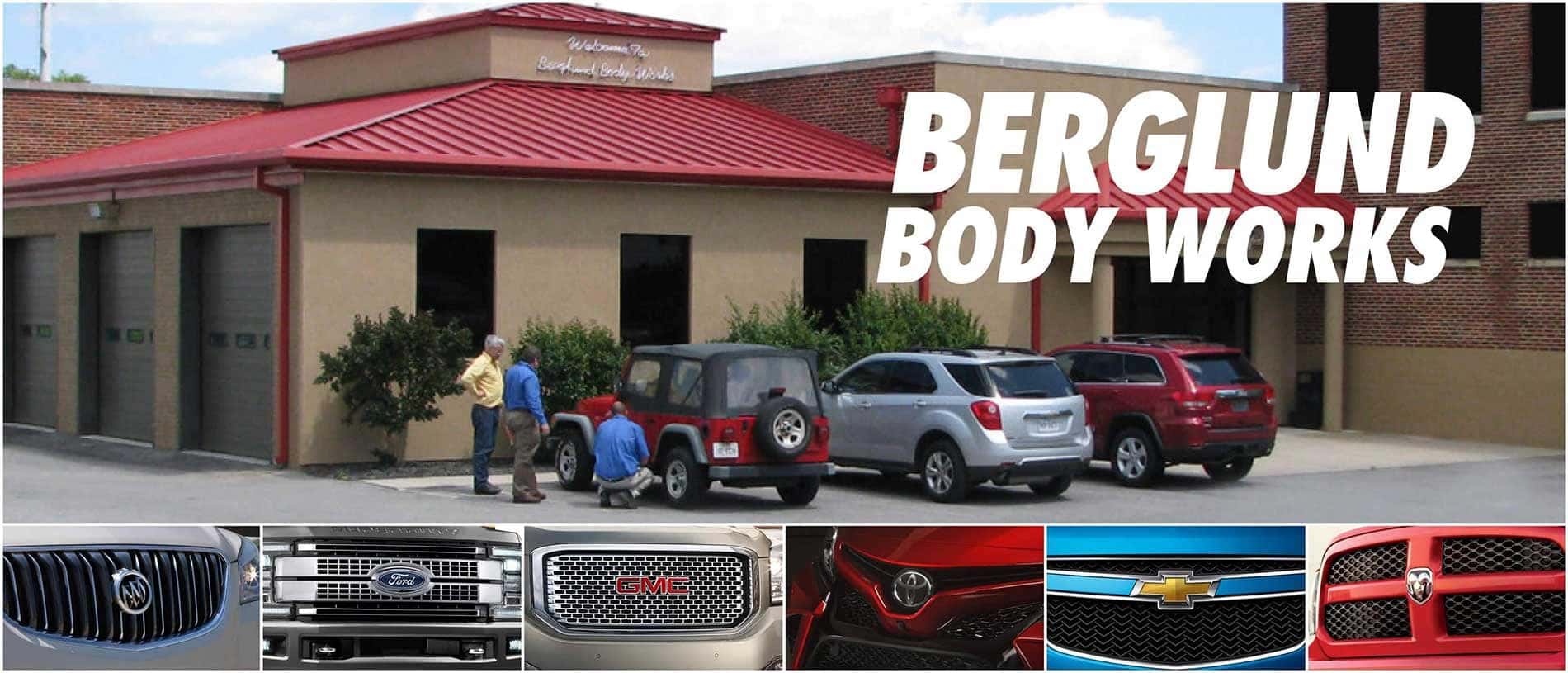 Been in a car accident near Roanoke? Then contact the experts at our Berglund Body Works shop, where collision repair is our specialty!
Why choose our Roanoke body shop for your collision repairs? Here are but a few reasons:
• We're the largest auto body repair center in the state of Virginia
• We utilize state-of-the-art equipment (and are trained to use it!)
• All vehicles are welcome, including Chevrolet and Buick models
• Our OEM parts inventory is worth over $2 million
• We offer pick-up and delivery service
• Full-service towing is available 24/7 for emergencies
• In-house rental cars are provided to our customers when needed
• We work with all insurance companies
• All inspections are FREE for our customers, which no other Roanoke dealer or repair shop provides
• Our Paintless Dent Repair service is virtually error-free and affordable
• You're guaranteed to have a certified and experienced technician work on your vehicle
Where we excel most is in our ability to do work quickly. If you need your vehicle repaired fast, trust in our Berglund Body Works specialists to get the job done on time and correctly.
Auto Body Work in Roanoke, VA & Beyond
As a direct-repair body shop, we're fully equipped to handle just about anything that comes into our Roanoke service bay. Since our motto is "Do it right the first time," restoring your vehicle and confidence is par for the course—and we take pride in that.
Every phase of the auto body repair process has been laid out via our Standard Operating Procedures (SOPs), ensuring that our quality collision repairs are consistent from one job to another. Both our licensed technicians and newly hired staff are required to know these SOPs front-to-back and pass a certification test each year to prove they're deserving of donning a "Berglund" badge. In essence, we hold our Roanoke collision center technicians accountable for their work through constant training and re-certifications.
In addition, our standardized auto body repair processes ensure that Berglund can continually keep labor and parts costs to a minimum by reducing and eliminating errors.
Fixing Fender-Benders & More at Berglund Body Works
Whether you've been in a minor crash or a major collision in Roanoke, or just want to patch up some trouble spots on your vehicle, come to Berglund Body Works. We'll make sure your ride looks new again. Call us at 540-344-1461 to schedule an appointment, and be sure to ask your Berglund Chevy Buick dealership for advice on a new Chevrolet or Buick model if yours is unsalvageable.
Satisfaction Guaranteed
At Berglund Body Works, we are committed to quality workmanship and 100% customer satisfaction. Our goal is to strive to constantly improve our processes and meeting the high standards of the insurance companies and, most importantly, our customers. We ensure that we are up-to-date on the latest methods of collision repair, while all of our employees understand the importance of providing courteous and professional service.
Berglund Cars is your source for all things Buick, Chevrolet, Chrysler, Dodge, Ford, GMC, Jeep, Kia, Mazda, Scion, and Toyota. Whether you want to buy or lease a new or pre-owned vehicle, get quick and affordable financing, have fast repairs performed on your vehicle by factory-quality technicians, take advantage of our money-saving specials, or more, we will provide you with everything you want and need. Best of all, we will do it with a smile! We look forward to meeting you soon!