Buick Envision Offers in Roanoke, VA
Buick Envision: Envision Your Future
Picture yourself driving down the road in your Buick Envision. Whether you're going to the movies with friends, dropping off your kids at school, or taking a road trip with the family, this compact SUV can take you where you want to go—and more! Don't let the small exterior fool you; the Envision has plenty of room! Packed with an enormous number of features, the Envision shouldn't be judged by its size.
Concerned about having enough space in the cabin? Don't worry! The Buick Envision has an incredibly spacious cabin, sophisticated and comfortable interior, and plenty of cargo space! With so much to offer, the Envision is sure to meet your needs! Ready to Envision your future? Contact us today and take a Buick Envision for a test drive!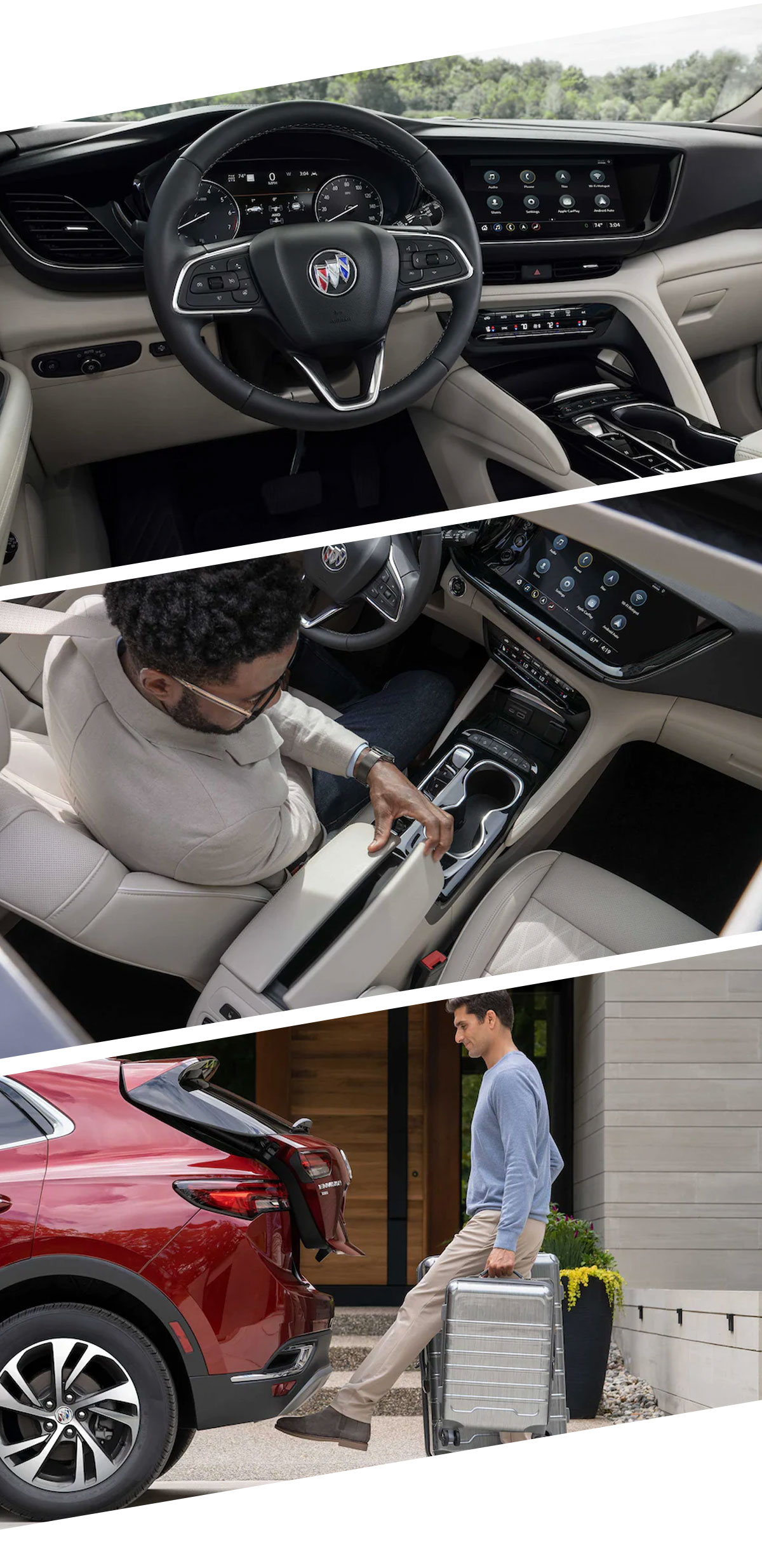 The New 2022 Buick Envision
The Envision comes off its refresh and enters production in 2022 with slight modifications. The Sport Touring package includes alloy pedal covers, headrests, and floor mats with embroidered "ST" logo on Preferred and Essence models. The sporty look is carried through to the inside as well. The red stitching on the seats in the Sport Touring version of the Essence variant is different from that on other models. A new optional exterior color, Sapphire Metallic, is also now available. The 2022 Envision has a toned and sleek body. At the same time, a sweeping and elegant cabin is complemented with a high-end trim covering. It's incredibly relaxing in light-beige leather, with a 10.2-inch touch screen multitasking system upgrade.
Buick Envision: A Brief History
The Buick Envision was first introduced in China in 2014, but became available in the United States in 2016. The vehicle is produced in China and imported to the U.S. Garnering much attention, the Buick Envision is a small luxury crossover SUV. When the Envision went on sale in the United States in 2016, it became the first Chinese-built GM vehicle to be sold in America.
Known for its smaller size, the Buick Envision is quiet on the road and packed with interior features. Offered in a variety of trims, the Envision can be packed with as many luxurious features as drivers want! The Envision is an intriguing vehicle that drivers enjoy!
Where To Find The Buick Envision That Fits Your Needs
Ready to find a Buick Envision? Our Roanoke dealership is here for you! We offer a large inventory filled with numerous new and used vehicles. Our selection includes a variety of different cars, so take a look at our online inventory today!
Searching for specials? We have new vehicle and used vehicle specials! Still looking for more deals? Our inventory even features a selection of pre-owned under 10K vehicles! The catch? These deals won't last forever! What you see listed on our site today might be gone tomorrow! Now's your time to find your dream vehicle at a low price.
Want to save even more money? Schedule maintenance today and take advantage of our service and parts specials! Be sure to contact us today! Our expert technicians are happy to help you with anything you need! We pride ourselves on excellent customer service. We want our customers to be happy with their purchase, our services, and our prices. Save big today! Residents in Lynchburg, Danville, and Roanoke can agree: Our dealership is here to meet your needs and offer outstanding service! We are conveniently located at 1824 Williamson Road, Roanoke, VA 24012.