The Iconic Chevy Malibu
Comfortable. Stylish. Loaded with features. Are these qualities you look for in a car? If so, you might consider the Chevrolet Malibu! The Malibu is an iconic car known for its custom appearance and roomy interior. If you're looking for a vehicle for those long road trips or a simple everyday transporter, the Malibu is a fantastic choice for you! It offers plenty of room on the inside and a large amount of space in the trunk.
The Malibu has a futuristic feel both inside and out. The sleek yet defined lines of the exterior make it extremely attractive to look at. On the inside, the Malibu is packed with updated technology features. You'll never get bored in the Malibu with all the available tech options! The interior is thoughtfully laid out and the infotainment is easily accessible and simple to use.
Don't miss out on owning an amazing, iconic car! Contact us to schedule a Malibu test drive today!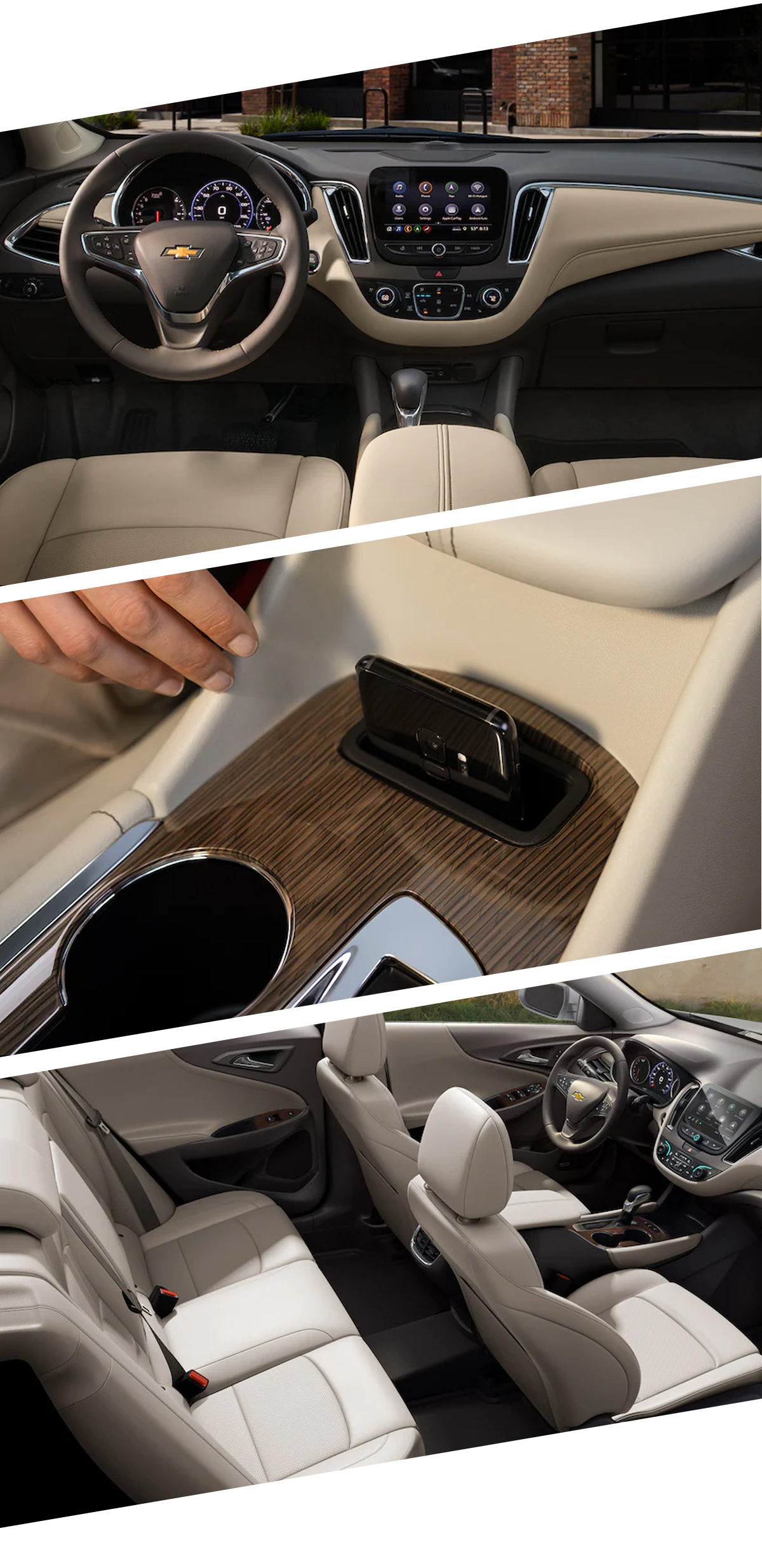 What You Need To Know About The 2022 Malibu
The 2022 Chevrolet Malibu arrives with several changes, which include the discontinuation of the L trim, an electronic parking brake that is standard across the lineup, an LT trim that has available 16-inch alloy wheels, and two new metallic paint colors: Mineral Gray and Dark Ash.
The Malibu's utilizes a turbocharged 1.5-liter four-cylinder engine that generates 160 horsepower. Front-wheel drive is the sole offering. It is paired with a continuously variable transmission. The Premier trim offers a turbocharged 2.0-liter four-cylinder engine that produces 250 horsepower.
The Chevrolet Malibu offers several entertainment and technology features, including: wireless device charging, a Wi-Fi hotspot, navigation, and Android Auto and Apple CarPlay®. Safety features include Adaptive Cruise Control, Forward Collision Mitigation, Blind-Spot Monitor with Rear Cross-Traffic Alert, Lane Departure Mitigation, and Rear Parking Sensors, among others.
Chevrolet Malibu: A Brief History
First appearing in the 1960s, the Malibu is named after the beautiful coastal community of Malibu, California. The Malibu began as a trim level for the Chevrolet Chevelle. In 1977, Chevrolet discontinued the Chevelle line. The next generation of midsize cars would be labeled strictly as Malibu models. After the fourth generation for Malibu ended in 1984, production stopped.
In 1997, the Malibu was reborn. Equipped with all-new front-wheel drive and offering 4- and 6-cylinder engines, the Malibu was named the Motor Trend Car of the Year for 1997. The 4-cylinder engine was dropped in 2000. In 2008, the Malibu was enlarged and only available as a four-door sedan.
In 2013, the Malibu was redesigned and featured further enhancements, as well as a new front-end appearance. Starting in 2016, the ninth generation of the Malibu has seen numerous upgrades over the years. The ninth-generation Malibu offers a full hybrid model for the very first time. The Malibu continues to add updated comfort, technology, and safety features with each generation.
Where To Find The Chevrolet Malibu That Fits Your Needs
Our Roanoke dealership offers an enormous selection of used and new vehicles, including the Chevy Malibu! Looking for specials? We have deals upon deals! We have new vehicle specials, used vehicle specials, and even a selection of pre-owned vehicles priced under $10K! Don't wait to act on these deals! These specials are for a limited time only. What you see listed today could be gone tomorrow!
Searching for even more deals? We offer service and parts specials! Schedule a service today! Whether you're in need of an oil change, a tire rotation, or anything in between, our service center can meet your car maintenance needs!
At Berglund Chevrolet Buick Roanoke, customer service is our specialty! We always strive to meet our customers' needs and match them with their dream vehicle. No matter what vehicle you're searching for, we can help! Our friendly associates are ready to answer any questions you may have. Feel free to contact us to today! Residents in Peterstown, Lexington, and Woodlawn, VA, all agree: We can meet your needs! We're conveniently located at 1824 Williamson Road, Roanoke, VA 24012. Stop by and see us today!